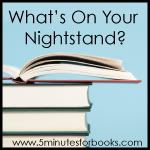 5 minutes for books is hosting a carnival of books on your nightstand. You can check out the carnival by clicking on the button above.


I haven't been reading much this month with the Olympics going on. So I still haven't finished Gone with the Wind.. However, I am very close and can't wait to see how the story ends!




Next up on the nightstand after I finish the last little bit of gone with the wind is Pride and Prejudice. This was on my list for the Spring Reading Thing.. its almost the end of summer and I am still working on that list! I am also reading it for the classic bookclub over at 5 minutes for books next week.
We are leaving this Saturday for vacation at the beach. So I am taking a bunch of books to read while there however, I am not packed and haven't even thought about what books I am going to take.. I like to do light reading while I am there.. any suggestions?
You can check out what is on other people's nightstands
here
.