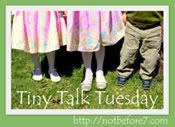 Sammy's language is coming along at a great pace now that he has had his tubes for a while. He is also very obsessed with letters. When we are in the car he tells me about every letter he sees. Lately he has had some really funny things he has said. Here are a few:
Sammy was eating his cheese pasta in his booster seat. He then picked up his bowl and identified it for the first time. I was excited and told he was correct. He then took the bowl turned it upside down and said, " bowl hat." It was then I was thankful it was cheese pasta and not tomato based :-P
---
On Saturday night we were driving back from my parents house and Sammy started saying a new word. Tim and I looked at each other with a very confused expression. It sounded like a word that we didn't think he should know. He was very emphatic about this word repeated it over and over. I looked back and he was pointing at the bag of sun chips. It all made sense then.. he was asking for a chip. Last night we were eating some tostitos and Sammy came over and said, "eat sh*t please." I guess we need to work on the p sound ;-)
---
For more Tiny Talk Tuesday check out
Not Before 7
.