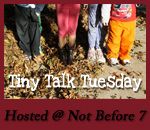 Sammy said some pretty hilarious things this week and I actually remembered them! We were getting ready to go somewhere when I said to Tim, "I really need to take a shower." Sammy asked, "Why?" I said, "I need to wash my hair." Sammy replied, "Ohh you have food in your hair?" Apparently we must tell him to frequently that is why he needs a bath ;-).
A few Sammyisms:
dindin - band aid (I'm not sure how he started saying it that way but he always does)
foofee - movie
tatoes - tomatoes
ittle - little
Q umber - cucumber
We had a yardsale on Saturday, Sammy stayed at his grandma's house during the sale. With the stuff that didn't sell we gave to a girl at our church who is raising money for a 5 year mission trip. We gave her stuff after church on Sunday. Sammy said, "ohhh all my toys.. where are they going?" Don't worry we only got rid of things he hardly ever played with!
For more Tiny Talk Tuesday's check out
Not Before 7
.