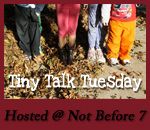 I have done a terrible job of remembering the things Sammy has been saying lately. I need to write them down! I do however remember one that Sammy said last night.
Sammy (3.5) – When I grow up I want to grow lots of teeth and be a shark. ROAR!!!!
---
For more Tiny Talk Tuesday head over to Not Before 7.