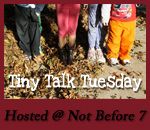 It has been a while since I have done one of these posts.  Sammy has been saying some hilarious things but I didn't write them down and then they disappear from me to quickly!
---
Sammy (4) was sitting on Tim's lap and you could tell he was just loving sitting with his Daddy!
me: Sammy do you love your Daddy?
Sammy: No
me: Really who do you love?
Sammy: I love Jesus! 
He then went on to list all of his family that he loved and a few close friends.. super sweet!
---
Sammy was watching Toy Story 3 at the end Andy uses his bottom to close the back of his car.  Sammy giggles then says: Don't use your hiney use your hand!!! Hineys are for going potty!
---
Sammy (4): When I am 10 I will grow up to be a big cat!
A little latter he said when I am 12 I will be little again!
---
For more Tiny Talk Tuesday head over to Not Before 7.