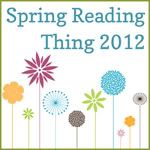 I love Katrina's reading challenge and I LOVE spring! I have been looking forward to this reading challenge since I didn't do so great with the fall challenge!
Some reading goals I have for this spring are:
1. Read at least 30 minutes aloud to Sammy a day. Whether its our current read aloud or picture books doesn't matter just that we are consistently reading together!
2. Start a reading time where Sammy has a stack of books to look at and "read" while I also read from one of my books!
On my Spring Reading list:
1.The Money Saving Mom's Budget:
I want to re-read The Money Saving Mom's Budget and start implementing even more of it in my life. If you are trying to save money and just getting started this is the book for you! If you have been doing it for a while I still think you would find some wonderful ideas to implement. Plus all of the proceeds go to Compassion International!
2. A Game of Thrones
: I am almost done with this book! It has been really good!
3. Love Finds You in Annapolis, Maryland
: My friend Jolanthe let me borrow this book and I am excited to give this author a try! I also want to finish this so I can get it back to her since I have had it a while
4. Love Amid the Ashes
: Jolanthe also let me borrow this one. I read The Red Tent last year so I think this book will be great since its also another story about Dinah.
5. A Clash of Kings
: If I get all of that reading done I am going to start the second book in the Games of Thrones series! I am really liking this series but the books are so long they take me a while to read!
Read Aloud Books:
1. The Complete Tales of Winnie-The-Pooh
: I want to finish reading this aloud to Sammy this spring! He has been loving The Complete Tales of Winnie the Pooh and has actually been sitting and listening to this and I am loving it. This is our first read aloud we have ever done!
2. The Mouse and the Motorcycle
: This is our next read aloud for when we finish reading Winnie the Pooh. Sammy loves animals and a friend of me suggested that he might like this book. So we are going to read this next.